Fetish Pride Italy – 7th Edition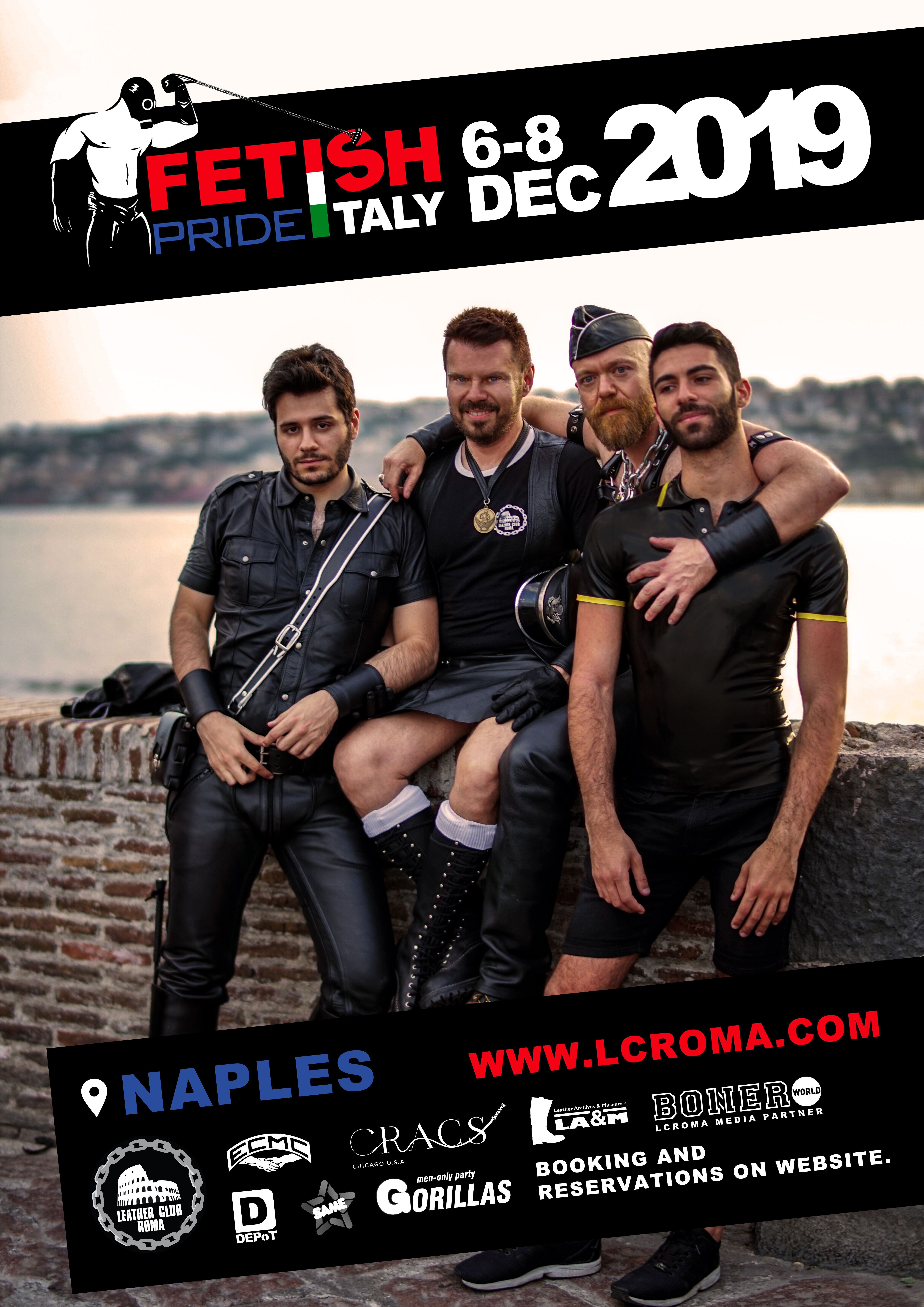 The seventh edition of Fetish Pride Italy will take place for the 1st time in the City of Naples. It will be, as in past years, a wide-ranging event that will involve the European, Italian and local community with the presence of several foreign guests. This year Fetish Pride Italy repeats the many initiatives that were so successful last year in Rome but will also add elements of Neapolitan history, culture and tradition such as: —The world's best pizza; —Dinner in a typical Neapolitan eatery with sea food; —Professionally guided tour of the Kings and Castles of Naples along the route of "Mediterranean Pride of Naples;" —Two parties: Welcome & Catacombs United plus an afterhour party. —Final brunch in the square of LGBT and Students "Movida" in the ancient heart of the city. Below you can find the complete program
Friday 6th December
NEAPOLITAN PIZZA WITH FRIENDS
Birrzeria di Re Carlo – Larghetto S. Antonio Abate
€ 20.00 – BOOKING MANDATORY
WELCOME PARTY
Depot Napoli – Via della Veterinaria 72
Leather, Rubber, Military, Sport and Sneakers, Boots, Jock&Harness – NO FASHION STYLE!
€ 10 (Key We membership card required)
Cruising Party in the most famous "only men" Club in Naples, where all Italian and foreign guests will welcome each other and warm up for the weekend.
Saturday 7th December
ROYAL NAPOLI – Tour
Meet at 14,30 in Piazza Municipio
With a professional guide you will discover the Naples of the Kings from "Maschio Angioino" Castle passing through the Umberto I Gallery, the shopping street of Via Toledo, Piazza Plebiscito, Teatro San Carlo, The Royal Palace and ending the tour on the beautiful water front with a view of Vesuvio, Sorrento and Capri. Final step "Castel dell'Ovo" with its amazing terrace on the sea. The Tour will last about 2 and a half hours.  
OFFICIAL DINNER
Da Corrado – Via Michele Tenore 3
Typical Neapolitan restaurant with dinner mainly based on fish and seafood. Please send a message if you don't eat seafood.  
CATACOMBS NIGHT UNITED
Leather, Rubber Military, Sports, boots, jock&harness
in partnership with
Depot Napoli; Gorillas Party, Same the Party.
Year after year we have reached the 17th edition and Catacombs! This year, Catacombs is also the main party of the Fetish Pride Italy. All Fetishes meet in a party where everyone can fulfill their wishes without having to necessarily rub a lamp … just rub somebody else
Sunday 8th December
FETISH PRIDE AFTER HOUR
Depot Napoli – Via della Veterinaria 72
Leather, Rubber Military, Sports, boots, jock&harness
€ 8 (Key We membership card required)
For the more strenuous the night continues in the hottest cruising of the city where fetish blends with the Mediterranean beauty of the boys of Naples.  
GOODBYE NAPOLI BRUNCH
Etto – Via Santa Maria di Costantinopoli 102
The brunch to greet those you've just met, to embrace those you've known for a long time and to meet at the next Fetish Pride.Brunch takes place in historic Bellini Square heart of the LGBT Movida and Students, in the ancient center of the City.  
Bookings
Here you can book the Fetish Pride Events You can pay with Paypal or credit Card and you receive the confirmtion in your  Email.
HOTEL & Bed and Breakfast
Suggested hotels
Hotel Real Orto Botanico – Via Foria 192 (for stays of more than 2 days see the website
Hotel Ferdinando II – Piazza Carlo III 59
Terrazza Carlo III – Piazza Carlo III 53
Hotel Piazza Bellini – Via Santa Maria di Constantinople 101 (more expensive, possibility to book apartments online)
Vicaria B&B Guest House – Naples Centrale (Depot Napoli gay owned B&B).
Click on the map to discover the venues
FOLLOWS US!
Don't miss the Leather Club Roma News! :  
[one_half]
NEWSLETTER
Subscrption to our newsletter is the easiest way to be always updated abot events and news of Leather Club Roma!   [/one_half] [one_half last="yes"]SUBSCRIBE
!
Become a Leather Club member and support our activities!   [/one_half]