Fetish Pride Italy – 5th Edition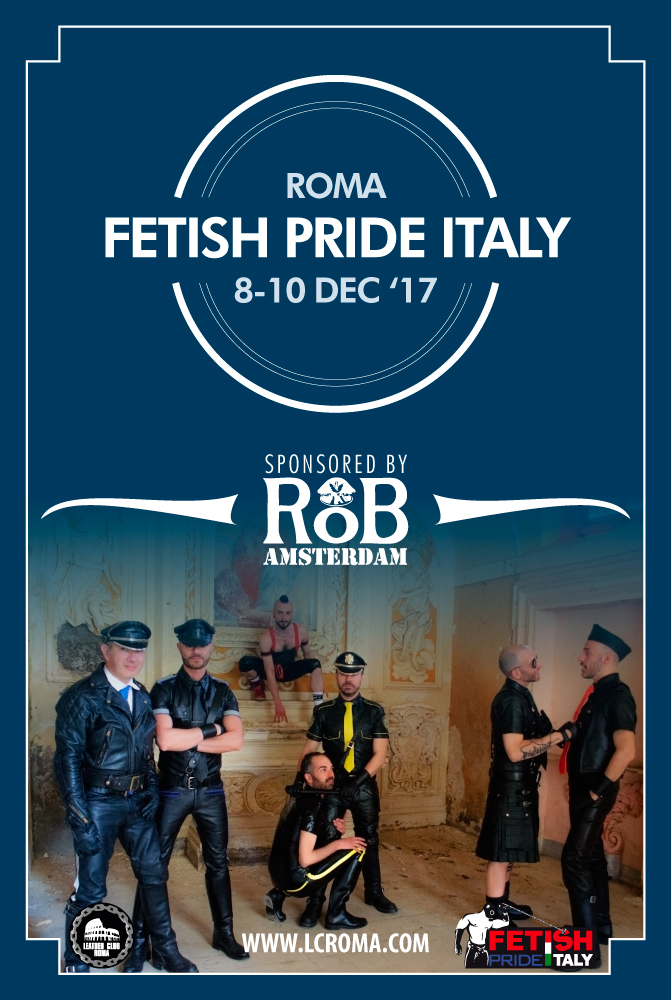 For the 5th time, Leather Club Roma organizes the FETISH PRIDE ITALY!
Finally, also in Italy, we have a wide fetish event, full of parties and events involving the Itali, European and International gay fetish community, similarly to what happens in other fetish cities (London, Amsterdam, Antwerp, Berlin, Paris)
The initiatives that have been so successful last year will be repeated:
– a dinner in a typical restaurant,
– the brunch at the Colosseum
– a free guided tour through the least known The lesser-known wonders of Rome
– the Sneaker&Rubber and the Catacombs parties.
You can also book the events at the end of this page.
We will have a lot of Italian and foreign guests,
Below you can find info about all the Fetish Pride Italy events, about where to stay and how to book the tickets.
RoB AMSTERDAM
Official sponsor: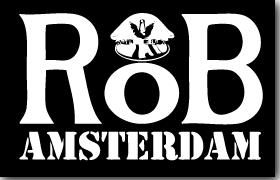 RoB Amsterdam is the official sponsor of Fetish Pride Italy!
Founded in 1975, RoB is internationally well-known and considered as one of the greatest leather, rubber and twisted gear shop and brand.
You can find Rob at the Flagship Store in Warmoesstraat 71, Amsterdam, You can also find RoB fetish clothing, toys and accessories at the RoB Paris Shop , GEAR Berlin , GEAR London and online: www.rob.eu
You can also follow Rob on Facebook & Twitter:
– facebook: www.facebook.com/robamsterdam/
– twitter: twitter.com/RoBleathershop
PROGRAMME
Fetish Pride Italy full programme:  
Friday 8th, December
Typical Roman Dinner at Betto and Mary

Betto & Mary  (Via dei Savorgnan, 99, 00176 Roma)


Free (you will pay at the restaurant) Reservation is mandatory

We will meet in a typical Roman trattoria, where you can taste the most famous spacialities of the Roman cooking. The menu is explained by nice waiters who will sit close to you… Gricia, carbonara, abbacchio, arrosticini, coppiette di cavallo, etc etc etc… all served with a lot of wine.
SNEAKER & RUBBER PARTY

Bunker (Via Zurla 70 – Roma)


€ 12 – (LCR members € 10)

For all the sneaker lovers but NOT ONLY for them… this is a party dedicated also to rubber lovers in order to create a mix of smells and… tastings in a place, the Bunker Club, specifically set up with mats and sport items that is surely appreciated by all the people who loves sneakers, feet, sportwear, trampling, rubber and much more! Try and see…

Saturday 10th, Dicember
CARAVAGGIO FETISH  – Roma Tour

More locations… discovering Caravaggio fetish side

Meeting point: Piazza del Popolo – Obelisk

CATACOMBS NIGHT MAIN PARTY

Bunker (Via Zurla 70 – Roma)


Leather, Rubber, Fetish, Jeans&Boots


€ 15 – (LCR Members € 12)

In 2016, Catacombs celebrates its 14th edition becoming, for the first, the main party of Fetish Pride Italy. All the fetishes meet each other in a party where everyone can satisfy his desires without rubbing a lamp… He can rub something better…..
Sunday 10th, December
FAREWELL BRUNCH

Coming Out  ( Via S. Giovanni in Laterano 8)


€ 15 – RESERVATION IS MANDATORY

The last day of Fetish Pride, we celebate our Farewell Brunch, just in front of the Colosseum, to say good bye to new friends, to hug again the long-standing ones and to invite all of them for the next edition of FPI.
HOTEL & Bed and Breakfast
Where to stay:  
Hotel e B&B Near Bunker Club
Hotel ANTICO ACQUEDOTTO – Via di Villa Serventi 9 (5 minutes walk from  Bunker). The single  costs about 60 €, double 80 €. Website: www.hotelanticoacquedotto.it
B&B STEFY'S ROOMS – Via Isidoro di Carace 10 (7 minutes walk from  Bunker). the single about 60 € double 90 €. Website: www.stefysrooms.it
HOTEL EUROSTAR ROMA AETERNA – Via Casilina 125 (15 minutes walk from Bunker). The single  costs about 90 €, double 100 €. Sito web: www.eurostarshotels.it/eurostars-roma-aeterna.html
Hotel e B&B GAY OWNED
DOMUS VALERIA – Via del Babuino 96, Roma (Piazza Navona). Single room  50 – 70€; Double room 100€. Website: www.domusvaleria.it
SECOND FLOOR – Via di San Giovanni in Laterano 10, Roma (Colosseo).Booking code: "FPI2017" Single room 80 – 100€; Double room about 110€. Website: www.2floorgay.it
B&B TESTACCIO – Piazza di Santa Maria Liberatrice 4, Roma (Testaccio). Single room 40 – 60€; Double Room 80€. Website: www.bebtestaccio.it
GUEST STAR
FOLLOWS US!
Don't miss the Leather Club Roma News! :  
[one_half]
NEWSLETTER
Subscrption to our newsletter is the easiest way to be always updated abot events and news of Leather Club Roma!
[/one_half]
[one_half last="yes"]SUBSCRIBE!
Become a Leather Club member and support our activities!
[/one_half]