Mister Rubber Italy 2019- #strongertogether weekend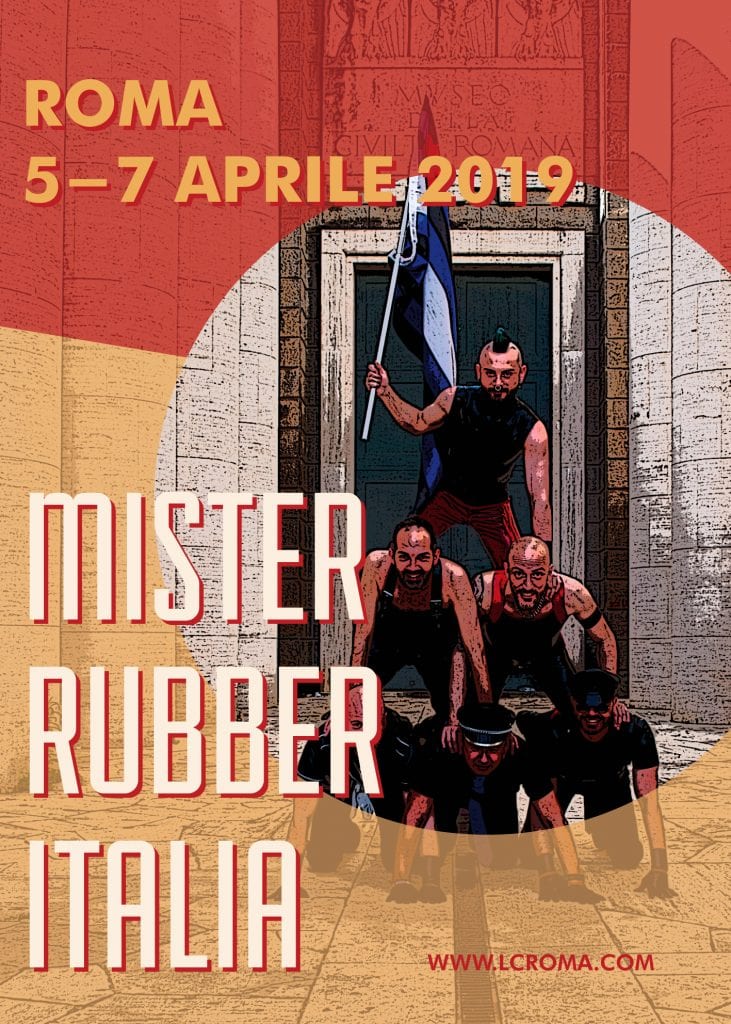 Mister Rubber Italia 2019 is organized by Leather Club Roma and Leather Friends Italia.
Rubber & fetish friends from Italy & Europe will come to have fun and choose the new Mister Rubber Italia 2019; the winner will partecipate in the most important European and international events and contests (Mister Eurorubber, International Mister Rubber).
Who's gonna be the successor of Nick, Mister Rubber Italia 2018?
THE CONTEST
Application:  
You can find the contest rules at this link
PRIZES
The winner will receive the following prizes:
– 200 euros in vouchers from Leather Club Roma e Leather Friends Italia
– Nice So Fetiche full package (2 nights in hotel, gala dinner, 2 fetish parties, brunch, tour) offered by Evidence Fétiche
– From Black Crystal Latex: for the winner a 20% discount voucher on the first customized item purchased and for the first runner-up a customized accessory (armband or wristband)
PROGRAMME
MISTER RUBBER ITALIA:  
Friday 5 April

Company Roma – Piazza manfredo Fanti, 40


Leather, Rubber, Fetish, Harness (dresscode is welcome)


€ 10,00  – LCR members € 7,00 

saturday 6th April

Ristorante Mercato 8 – Via Orvieto 8, 00182 Roma

---

Mr. RUBBER ITALIA 2019 – MAIN PARTY & ELECTION


SKYLINE – Via Pontremoli 36


Rubber, Fetish, Leather, Jeans & boots

€ 15,00  – LCR members € 12,00 

Sunday 7 April

Coming Out, Via di San Giovanni in Laterano, Roma

Follow us
Stay updated with the Leather Club Roma news:  
[one_half]
NEWSLETTER
Subscribe our newsletter to receive Leather Club Roma news and update!
[/one_half]
[one_half last="yes"]
BECOME A MEMBER
Become a member of Leather Club Roma ad support our activities
[/one_half]