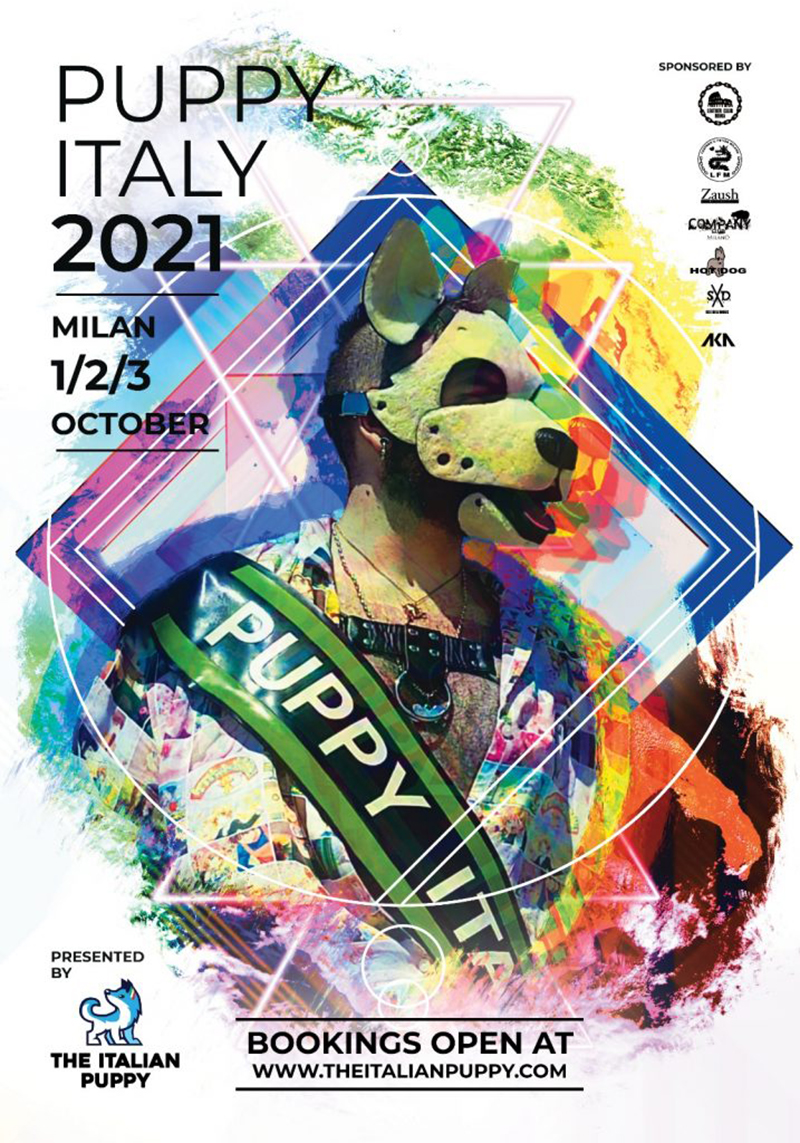 The election of Puppy Italy 2021, in Milan, is organized by The Italian Puppy, Leather Club Rome, and Leather & Fetish Milan.
Are you ready to immerse yourself in a weekend dedicated to the puppy world and the election of the new representative of the Italian puppy community?
The program begins on Friday with a welcome evening at the Company club and then continues on Saturday with three appointments: the interviews with the candidates (Saturday afternoon at the Sexdelirious), the official dinner in a historic restaurant, and the election of Puppy Italy 2021 all 'Hot Dog Club
The weekend will then end with Sunday Brunch .... with some little surprises!
Event name:  
Open Party
Time:  
21.30-04:00
Location:  
Via Privata Benadir, 14, 20132 Milano
Price:  
See below for bookings
Dresscode:  
Puppy, Leather, Rubber, Puppy, Fetish, Skin, Jeans&Boots, Harness
Booking:  
See below for bookings
Saturday 2nd October 2021
Event name:  
Candidates meet&greet
Time:  
15.30-17.30
Location:  
SexDelirious - Via Camillo Prampolini 2, Milano
Price:  
See below for bookings
Dresscode:  
Puppy & Fetish welcome
Booking:  
See below for bookings
Event name:  
Social dinner
Time:  
19.30-21.30
Location:  
Giannino, Via Vittor Pisani 6, Milano
Price:  
See below for bookings
Dresscode:  
Puppy & Fetish gear welcome
Booking:  
See below for bookings
Event name:  
Election Party
Time:  
22.30 - 05.00
Location:  
Hot Dog Club - Via Oropa 3, Milano
Price:  
See below for bookings
Dresscode:  
Puppy & Fetish gear welcome
Booking:  
See below for bookings
Event name:  
Goodbye Brunch
Time:  
13.00 - 15.00
Location:  
Tranvai - Via Gianfranco Zuretti 63 - Milano
Price:  
See below for bookings
Dresscode:  
Puppy & Fetish gear welcome
Booking:  
See below for bookings
The event will take place in full compliance with the health rules relating to Covid-19