Interview with Tommaso, Mister Leather Italia 2018
So Tommaso, it's time to draw you own conclusions. If you had to describe your year as a mister with three words, which ones would you choose?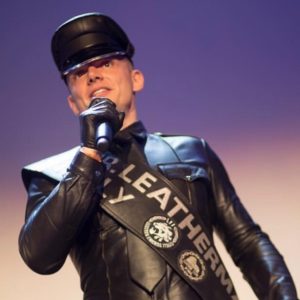 Inspiring, thrilling and exciting. Inspiring because, as I had a privileged point of view on our community, I could collect many different aspects from fetish and from people who belong to this world. Something that I had never grasped before. So many inputs also came from those people who are interested in fetish even though they had never approached it. Thrilling because every event I attended as titleholder was absolutely astonishing. Exciting thanks to the human touch and to the support that I feel everytime and everywhere.
Your successor will be elected soon. In your opinion, which kind of characteristics should a mister have to juggle between private life and the commitment as a titleholder? Apart from pursuing peace on Earth …
I don't think there are any particular characteristics, apart from being yourself and spontaneity. Every mister is different from the others, otherwise it would be so boring… isn't it?
Actually your adventure as a mister is not really over, I mean you will take part in International Mister Leather. How are you preparing yourself for that?
It has been a long preparation. I'm sharing this period with all the other titleholders who will attend the contest and a great help is coming from my predecessors who participated in International Mister Leather during the last few years.
And Lorenzo, your boy-friend, what does he think about that? I mean the end of your year as a mister and IML contest… Does he feel a bit like Ms. Clio (the former Italian first lady) before the failed step-down of her husband?                       
Well… for Mister Leather Italia the re-election is not allowed… During the last year Lorenzo attended with me every event and he always supported me. Now it's time to dedicate a little more to the couple.
However, I don't think you'll retire to private life after your step-down. Any plans for the future?
Are you sure? I have already looked at a piece of land where I can retire, maybe the homeland still needs me? Actually I'm focused on the launch of #truecolors project, a series of images in music to show that everyone can live their fetish side without prejudices.
Among all the things you did during the last year, which one makes you proudest and which one was not so successful for you.
Actually the answer is the same for both questions: when I was elected I proposed to make easier collaboration among Italian clubs. On one hand peace has not been signed yet, on the other one the representatives of all the clubs will attend the election of MLI19 in Padua. This is something which has not happened since a long time.
Finish the sentence: about Tommaso…
Born to be a leatherman.
Thanks Tommaso